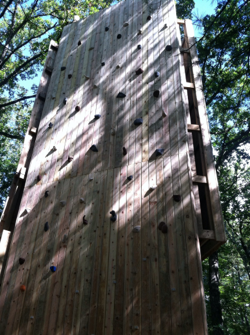 40-foot tower
High-adventure activity
Varying degrees of difficulty
Reach new heights with Camp T's three-sided climbing tower. Whether you use it for character building or thrill-seeking, the climbing tower provides an exciting experience in a safe environment.
The tower offers different features on each side. The flat side rests at a 90-degree angle, the adapted side features a 20-foot incline, and the extreme side has chimneys going away from the base.
Use of the climbing tower is a high-adventure activity and requires informed consent for participation. All climbers must wear a harness. Camp T staff must be present as the activity supervisor. Only certified Camp T instructors may lead this activity.
The informed consent form can be found in Camp T's Camper Information and Consent Packet [PDF].